I have gotten Bob some new things to work with and wanted to share them, incase they would be appropriate for anyone else. Bob has trouble reading, as you might remember. First he has visual cut, then he has the problem with his brain inserting 'logical next words' and he also has some cognitive problems. When he started, he could barely read 2 words together, and somehow he'd also pick up words from anywhere else close on the page and they would become part of the sentence he would struggle to read. Also, he'd keep repeating the same word into each sentence. Well, he went from struggling to read 2 words, to reading sentences, to reading simple paragraphs that are well spaced and nice sized font, on easy to read surface. He still has all the problems previously listed, but to a lesser degree.
So, I found these things on amazon, and some packs didn't apply to him, but this one did. As he has struggled to read, he has complained that he doesn't understand it or remember it anyway. I would tell him that for most people, reading is automatic, the brain is doing many things that you don't even realize. But his brain forgot what automatic was, it is trying to read one straight line without picking up words from everywhere, it is trying to remember to read past where he can see to the right, and worst of all, it is fighting off it's own urge to easily supply a logical next word and 'help him out'. I told him as it got easier to read with hard work, he would then have some brain left over to work on comprehension. He is picking up some comprehension!
So, what these Hot Dots supply, at least this set of them, is a short story on one side of the card (broken in 2 columns, yes!) , then you turn it over and there are 4 multible choice answers. You put the pen on the dot of the answer you choose and it lets you know if you were right or not. You do have to buy the pen separate.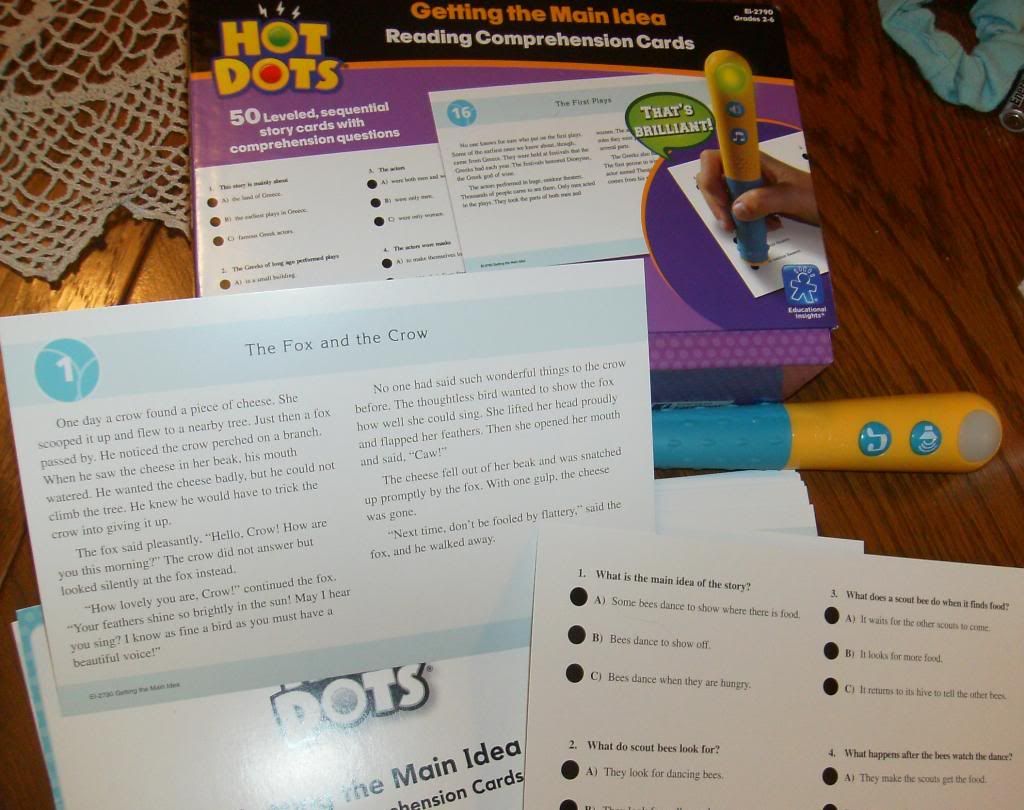 He tried the first story card today, Saturday, Sept 21. It was difficult, but he made it to the end, and got 3 out of the 4 question correct on first try. We both felt really good about this being able to help him with reading AND comprehension!
One more thing that I thought would make Bob work logic and train his eyes was this (and there are lots more, which I'll order, after seeing if he enjoys doing them and if they are a challenge). He did one and said it was a little difficult and I can see him doing these and graduating to more difficult ones. The book is about 4"x6:
When I found the Hot Dots, I was actually looking for sequence cards, which I'd seen in sets of 3 cards - I found 6 & 8 card sets on ebay, and ordered both. (Bob also has sequencing problems) I usually am doing the same searches on amazon and ebay at the same time so I can check the different prices and some may have another set not found at the other site. He did one of the 6 sequence cards today and they were relatively easy. That is a good thing, it means his brain is getting more logic. Before he had trouble with 4 lines where he had to put in order washing a car. He tried to wash the car before filling the bucket with water. Actuallly, I just looked at both sets and realize they are both 6 card sets, I was seeing the word 8 in that there are 8 sets in each box. Oh well, will still use them!